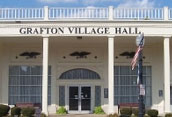 Bruce and Craig took the WEOL Morning Show on the road to discover the quaint charm of Grafton – we broadcasted live from the Harvest Cafe, on July 29-31! Thanks for having us!
Wikipedia: Grafton, Ohio
Interview Schedule:
Monday, July 29
Bob DiBiasio - Cleveland Indians
Tom Batiuk - Funky Winkerbean
Jeff Krause & Eric Van Houten – Republic Services
Joe Filipiak – Grafton Railroad Historical Society
Tuesday, July 30
Jim Bechtold – Always Best Care Senior Services
Maggie Kelch & Bill Cromling – Ross Environmental
Adele Infante & Tammy Mullins – Grafton Midview Library
Bob Lynch & Doris Wildenheim – Chronicle Telegram Cartoonist & Grafton Historical Society
Wednesday, July 31
Andy 'Bull' Barch - Lake Erie Crushers
Scott Goggin – Superintendent of Midview Local Schools
Warden Bennie Kelly – Grafton Correctional Institution
Don Binnie – Financial Advisor
Patrick Weir & Tammy Mullins – Home Days Festival (Our Lady Queen of Peace)
And a big thank you to the fantastic folks at the Harvest Café!