It was another exciting weekend of high school football on WEOL. If you missed any of the games, click on the scores below to hear the match-up in it's entirety.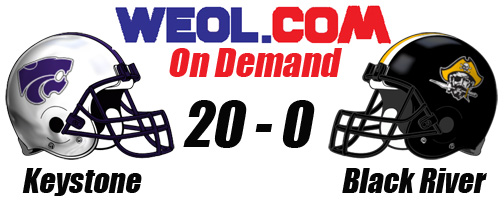 In the Kolczun & Kolczun Gridiron Clash it was Keystone's Austin Conrad who made a big mark on the game. The Wildcats tailback broke free for 258 yards and three touchdowns leading Keystone to their first shutout since 2013. With their win over the Pirates the Cats advance to 2-4 over all with a 1-0 record in the Patriot Athletic Conference Stars Division. Black River's loss keeps the Pirates at .500 with a 3-3 overall record and a 0-1 mark in PAC Stars Division play.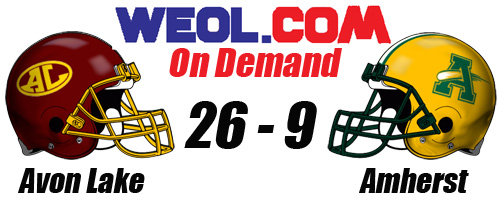 Southwestern Conference play continued in our second Kolczun & Kolczun Gridiron Clash of Friday Night. Defense was the key of the game for the Shormen as Avon Lake edged out Amherst despite giving up four turnovers to the Comets. Avon Lake evens out their record at 3-3 this season with the win. The Shoremen advance to 3-2 in SWC play. Avon Lake will meet up with Berea  – Midpark this week. Amherst is still looking for their first win of the season after Friday night's loss. The Comets are currently 0-6 overall with an 0-5 record in the conference. Amherst plays North Olmsted this week.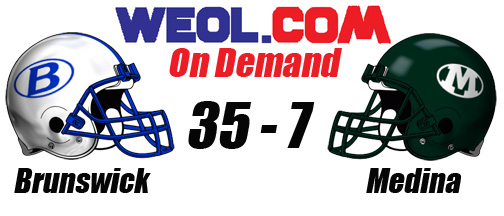 In our Medina County Match-Up the Brunswick Blue Devils picked up their second win in a row. Brunswick's triple option offense kept Medina guessing where the ball would go and often they chose wrong. With 496 rushing yards the Blue Devils worked their way to a decisive victory in this Greater Cleveland Conference showdown. Brunswick is now 2-1 in conference play with a 2-4 overall record. For Medina their overall record drops to 3-3 with a 1-2 record in the league. Brunswick host last place Shaker Heights this week. Medina is on the road at Mentor.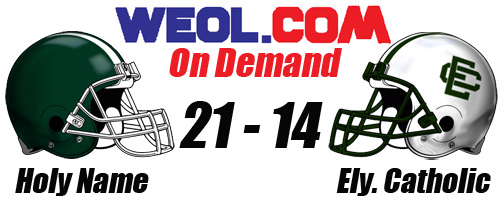 In Saturday's Kolczun & Kolczun Gridiron Clash it was a Great Lakes Conference battle between Holy Name and Elyria Catholic. Holy Name's Shakif Seymour set the tempo of the game early breaking past Elyria Catholic's defense for  a 70-yard touchdown run on the just second play of the game. The Panthers were forced to play catch up the rest of the game, but the never quite did. Elyria Catholic falls from the top of the Great Lakes Conference with the loss. The Panthers are now tied for second place with Bay at 2-1. The Panthers will have the opportunity to create some separation between themselves and the Rockets when they travel to Bay this Friday night. That game can be heard right here on WEOL.com Stream 2 starting at 6:30pm.