It was another great week of high school football on AM930 WEOL. If you would like to hear any of Friday night's match ups click on the game below.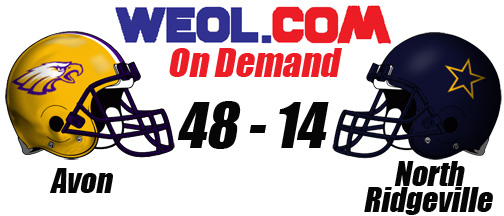 The Avon Eagles defense held the running game of North Ridgeville in check while Eagles running back Gerett Choat made his way past the Rangers for 143 yards and a score. The win propels  Avon to 6-1 on the season with a 5-1 record in the Southwestern Conference. North Ridgeville falls to 5-2 overall with a 4-2 record in SWC play. Avon hosts Amherst in week eight. North Ridgeville returns to their home field for a Friday night match-up with Westlake.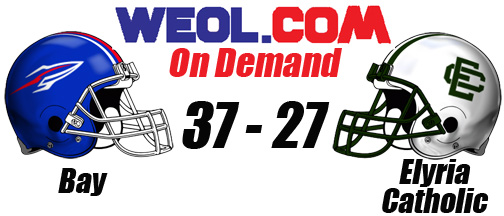 It was the Best of times for the Bay Rockets on Friday night. Running back Nick Best zipped past the Elyria Catholic defense for 272 yards and five touchdown to lift the Rockets to a 3-1 Great Lakes Conference Record. Bay is 6-1 overall on the year. The loss handed the Panthers their second in as many weeks. Elyria Catholic is now 2-2 in the conference and 4-3 overall. The Panthers look to get back in the win column on Friday night when they host Normandy. Bay steps away from conference play this week when they travel to Vermilion.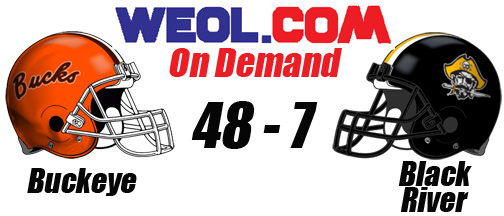 The Buckeye Bucks put on a show for their fans Friday night against arch rival Black River. Buckeye wide receiver Justin Lowry had two touchdown receptions  while running back  Trevor Thome rushed in for two scores of his own. With the win, the Bucks remain atop the Patriot Athletic Stars Division with a perfect mark of 2-0. At 7-0 the Bucks are yet to lose a game this season. Black River falls to 0-2 in the PAC Stars division and 3-4 overall. Black River continues division play this week against Brookside. Buckeye will be tested against a strong Firelands defense that has given up just nine points a game this season. You can hear that game Friday night on AM930 and WEOL.com stream one. Kickoff is set for 7pm with pregame at 6:30pm.