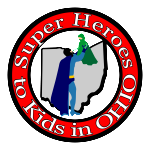 On Friday, May 6th and Saturday, May 7, the City of Elyria will once again face great peril, adventure, and fun as Super Heros to Kids in Ohio triumphantly return to our great metropolis to help keep the streets of Elyria safe and clean.
The fun starts Friday night at the Midway Mall's Atlas Cinema where there will be free comics, grab bags and caricatures drawings from 3 to 5pm. On Saturday morning the fun continues starting at 11:30am at Ely Square. Keith's Comics will be providing free comics in honor of Free Comic Book Day. At noon Mayor Holy Brinda will welcome everyone to the event. Shortly after the welcoming  speech those pesky villains will show their faces and try to ruin the day. That is when Superheros and Super Kids will work together in an effort to thwart the evil plans of the bad guys. When the evil villains have all been rounded up and sent back to Arkham Asylum more trivia and fun will take place back at Ely Square.
If you can't get down to Ely Square on Saturday, make sure you tune into AM930 where our own Bruce VanDyke will be on hand breaking the latest news from the event. For more information visit Superheros to Kids in Ohio's website and watch the video below.