WEOL Morning Show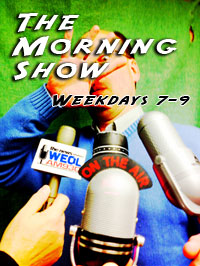 The WEOL Morning Show, Weekdays 7 – 9 AM
Get your day going by consuming the five major information food groups: news, weather, traffic, sports, and goodies.
The Morning Show team is: Craig Adams with the news, Jon Loufman with weather,  Jim Allen with local sports and Bruce VanDyke with giveaway goodies.
Missed a Jim Allen report? Click here.
Click here to listen to The Morning Show on your computer or smart phone.