Bull's Eye on the Afternoon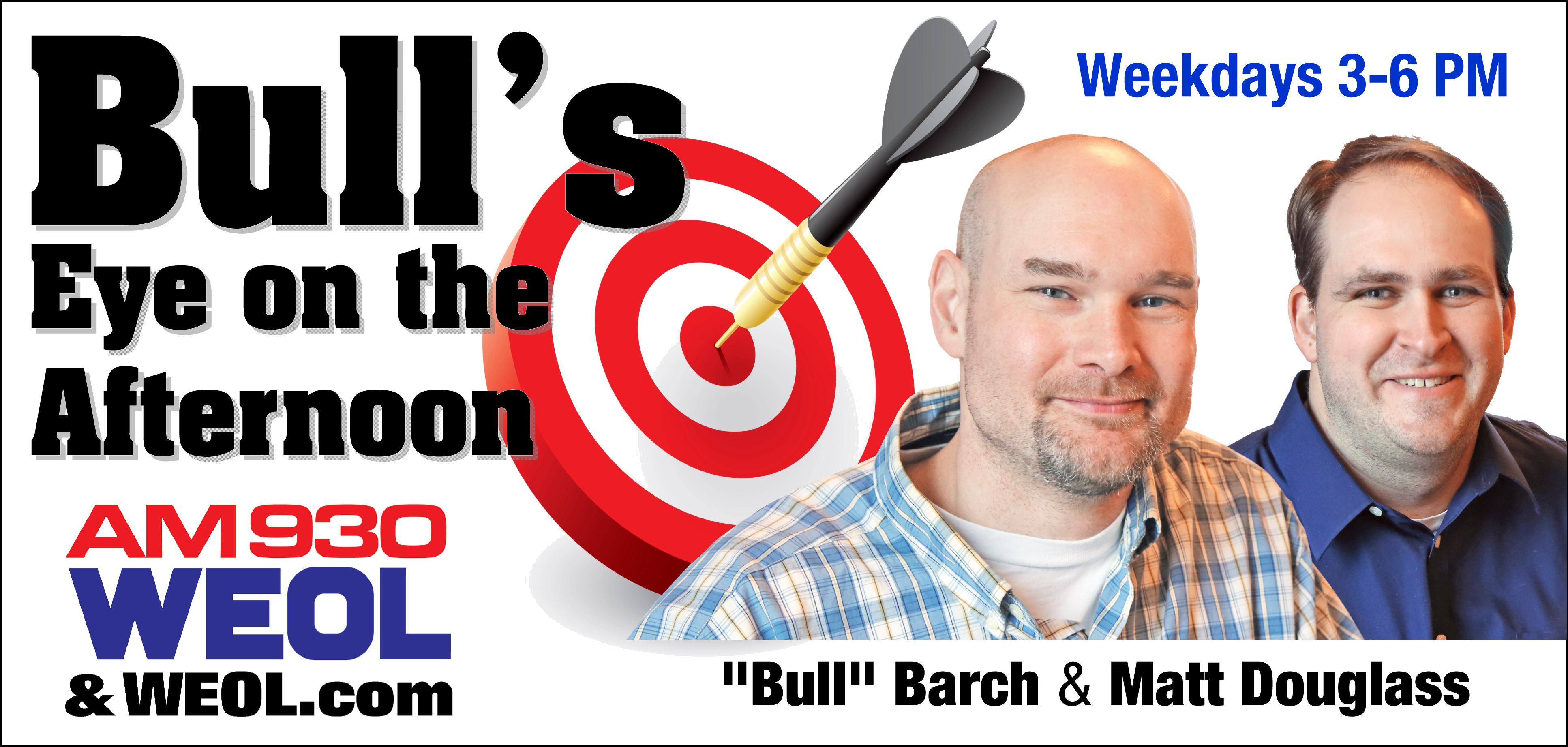 Weekdays from 3pm-6pm on WEOL is being taken over by Andy "Bull" Barch and Matt Douglass on the areas newest show, Bull's Eye on the Afternoon.
For the past few years, Lorain County residents have heard Andy during the summers as the "Voice of the Lake Erie Crushers."  Andy was also the Director of Sports Information at Notre Dame College in South Euclid.
The nickname, "Bull", came from a former colleague who thought he resembled the character Bull Shannon from the TV show, "Night Court".
Joining Andy in the Afternoons will be Matt Douglass.  For the past year and a half, Matt has been heard on the WEOL Morning Show, on high school football and basketball games, and has been actively involved with WEOL broadcasts at community festivals and live remotes.
After shows air, you will be able to find interview's and other fun stuff right here on the Bull's Eye in the Afternoon webpage.
Archived Interviews
Thursday, 3/23/17
3:40- Brian Frederick of the Community Foundation of Lorain County discussed the Foundation, their mission, and last weekend's event where they taught a group of teenagers about Philanthropy.
4:10- Dan Helm stopped by to discuss the Sweet 16 Round of the NCAA March Madness Tournament and gave us an idea as to what we can expect over the next few days.
4:40- Coach Alan Januzzi spent some time telling us about Sunday's Lorain County Boys Basketball All-Star game.
5:10- Jeff Traxler of Mega Championship Wrestling came in studio to talk about this Saturday's event at St. John's Gym titled "Moe Money, Mo Problems" and we gave away a few tickets as well.
Wednesday, 3/22/17
3:40- Joel Hammond of the Cleveland Indians talks about the injuries that have plagued the Tribe during spring training, and how the depth of the organization has really been on display over the last couple of weeks.
4:10- Lynn Maslinski of the Lorain Community Music Theater discusses this weekend's auditions for the Little Mermaid, as well as the LCMT celebrating its 40th anniversary and the awards they won in 2016.
5:10- Dr. Natalie Migoni of Healthscource Chiropractic of Avon discusses Wednesday night's event for Cleveland Brewery Runs.
Tuesday, 3/21/17
3:40 – Our Hollywood Insider, Al Harris told us what to watch for this week, and explained why the Box Office has been so busy over the last few weeks.
4:40- Amherst Steele Athletic Director Casey Wolf was our guest on the "Ask the AD" segment, and told us all about the Comets, touching on their incredible accomplishments in the winter season, and what to expect in the spring.
5:10- Sandra Ballard of the "Say Yes to the Dress Event" discussed the event, which takes place April 7-9 at the Greater Victory Christian Ministries in Lorain.
Monday, 3/20/17
3:40- Ryan Mitchell of the Columbus Blue Jackets Radio Network discussed the red hot Blue Jackets and what lies ahead in their final 11 games of the regular season.
4:10- Rick Noland of the Elyria Chronicle-Telegram and the Medina Gazette gave us a good look at what to expect from the Cleveland Cavaliers over the final four weeks of the regular season.
5:10- Rosanna Hrabnicky tells us all about the Cleveland Home and Remodeling Expo this weekend at the Huntington Convention Center of Cleveland.
Friday, 3/17/17
3:40- Ryan Fowler of Fox Sports talked about the NCAA Tournament.
4:10- Joe Matuscak of the LCADA Way talked about their Open Forum on Grief this Tuesday, and their many other upcoming events.
4:40- Ty Linder, voice of the Kent State Golden Flashes talked about Kent's match-up against UCLA in the NCAA Tournament.
5:10- Tom Kramig, Owner of the Lake Erie Crushers talked about the many changes for the 2017 season.
5:40- Rob Glatz, Head Coach of the Amherst Steele Track and Field team talked about Saturday's Comet Clinic.
Thursday, 3/16/17
3:10pm – The "Incredible Hulk" Lou Ferrigno talked about his upcoming appearance at Wizzard World Comic Con in Cleveland and about his upcoming movie.
4:10pm – Sober Seventeenth brings the true spirit of St. Patrick's day by providing a family-friendly, alcohol free celebration with great Irish Music. Today, Chairman President Jack Kiroy and esteemed Irish Singer James Kilban talked about the event and sang.
4:40pm – We break down your bracket with former NCAA Division I assistant basketball coach Dan Helm
Monday, 3/13/17
4:10pm – Our Hollywood insider Al Harris talked about the upcoming movies and great shows to watch if you get snowed in
4:40pm – The big snow storm is coming, Meteorologist Jon Loufman tells us what we can expect as winter attacks here in March
5:10pm – Hear how the local Lorain grapplers did over the weekend at the state wrestling tournament with the Chronicle Telegram's Shaun Bennett
Wednesday, 3/8/2017
3:40pm – Tiffany Tarpley of WKYC-TV joined Bull and Matt to talk about last weekends Life Savers Ball
4:10pm – Henry Patterson told us how he and other started the Lorain Alumni Association
5:40pm – Frank Whitfield of the Lorain County Urban League, talked about this Friday's Diversity Training Seminar at Lorain County Community College
6:10pm – Jake Hromada of Ohio University Broadcasting helped us preview the MAC Tournament
Tuesday, 3/7/2017
3:40pm – Laurie B. Arnold told us about her new Book Hello There, Do you Still Know me and her writing process
4:10pm – Joel Hammond of the Cleveland talked about this years big promotions at Progressive Field
5:10pm – The Chronicle Telegram's Lisa Roberson told us about Mayor Brinda's letter to the president and the state of medical marijuana in Elyria.
Monday 3/6/2017
Steve Sefchick (right), Jim Powers (middle) and Jeremy Hudgens (left) of Lorain County Community College talked with Bull and Matt about last weekends Special Olympics' North Sectional basketball tournament held at LCCC. Take a listen
Thursday 3/2/2017
4:10pm – Hear about the Jackets trade deadline moves with the Blue Jackets Radio Network's Ryan Mitchell
4:40pm – Our Hollywood insider Al Harris gave us his pics for next years Oscars and some good flix to watch
5:10pm – The Chronicle Telegram's Bruce Bishop recapped this years Paczki Patrol run on Fat Tuesday
Monday 2/27/2017
4:10pm – Elyria Mayor Holly Brinda joined us to talk about what the future holds for the city of Elyria
4:40pm – We talked about last night's Oscars with entertainment journalist Al Harris
Friday 2/24/2017
3:40pm – WEOL News director Craig Adams told us about the Auto Show being held at the I-X center
4:40pm – Get ready for you fantasy baseball draft with Fox Sports contributor Ryan Fowler
5:10pm – Lorain County Metro Parks Ursula Drinko let us know about tonight's big glow volleyball event at the Oberlin Splash Zone
5:40pm – The Chronicle Telegram's Lisa Roberson talked about Elyria's current interest in medical marijuana.
Monday 2/23/2017
3:40pm – Indians Communications Coordinator Joel Hammond join the show from down in Goodyear, Arizona
4:40pm – Loran Mayor Chase Ritenauer talked about the State of the City speech he gave earlier today… and the Cubs.
5:40pm – Tracey Murphy of St. Marry of the Woods Retirement Community told us how Avon high school students are teaching tech to Seniors in the community.