Forecast Magazine
Do you Like High School Sports? So do we! Before each season we put out a magazine that previews the upcoming year. Take a look inside each magazine by clicking on the covers below.
2016-2017 Forecast Magazines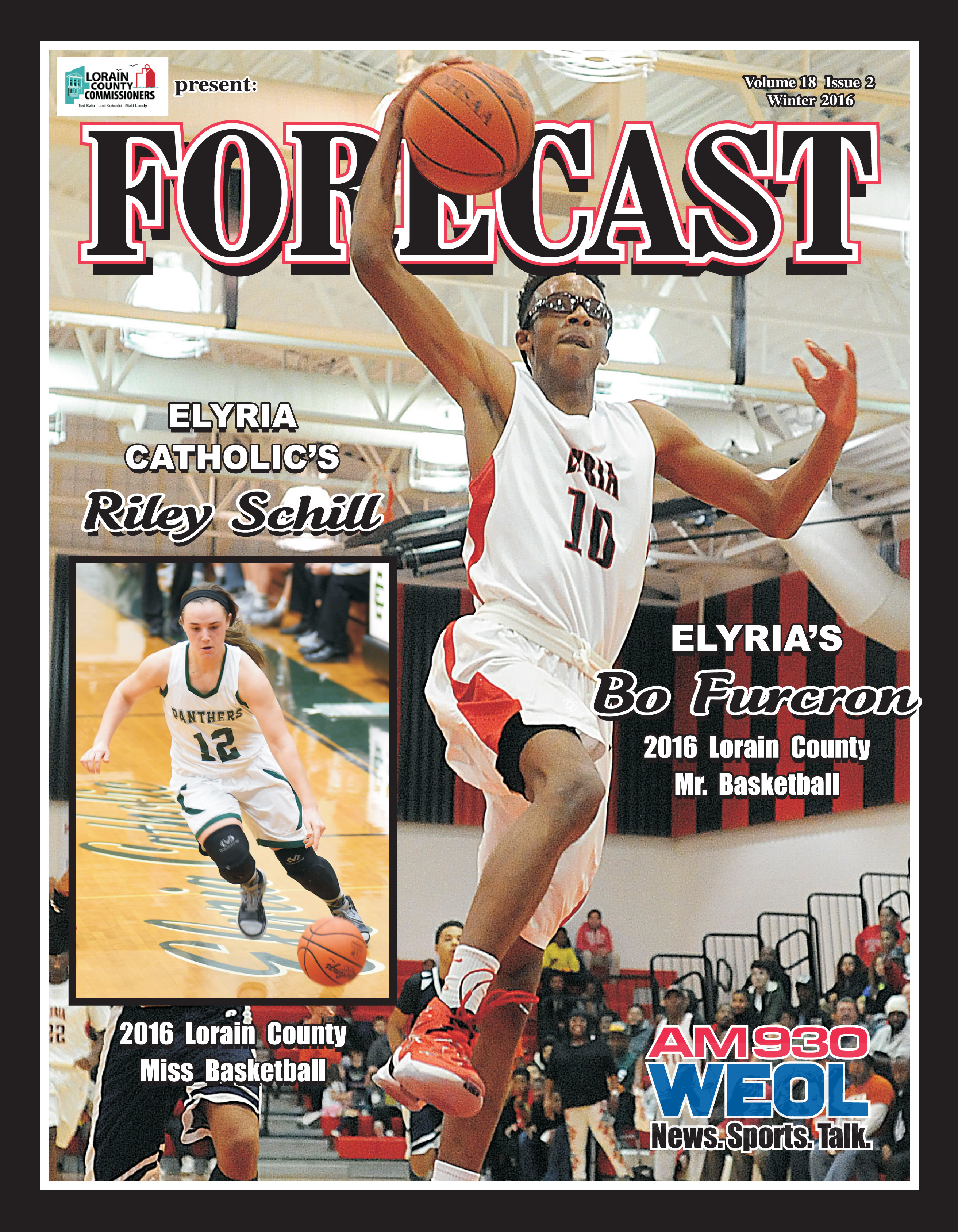 The cover of this years Winter Forecast Magazine features 2016 Lorain County Mr. Basketball Bo Furcron from Elyria, and  the 2016 Lorain County Ms. Basketball Riley Schill from Elyria Catholic.  Under the cover you will find all the great features that make the Forecast Magazine great. Read preview articles about Lorain County high school boys and girls basketball teams written by the guys who call the games, and a see what lies ahead for Lorain County wrestling teams in a article written by the Chronicle Telegram's Shaun Bennett. Along with the previews articles you can find  basketball schedules for area boys and girls basketball teams and all the Lorain County high school wrestling teams. The Winter Forecast comes out on Friday, Nov. 18. Look for it delivered in the Chronicle Telegram or at local business around Lorain County.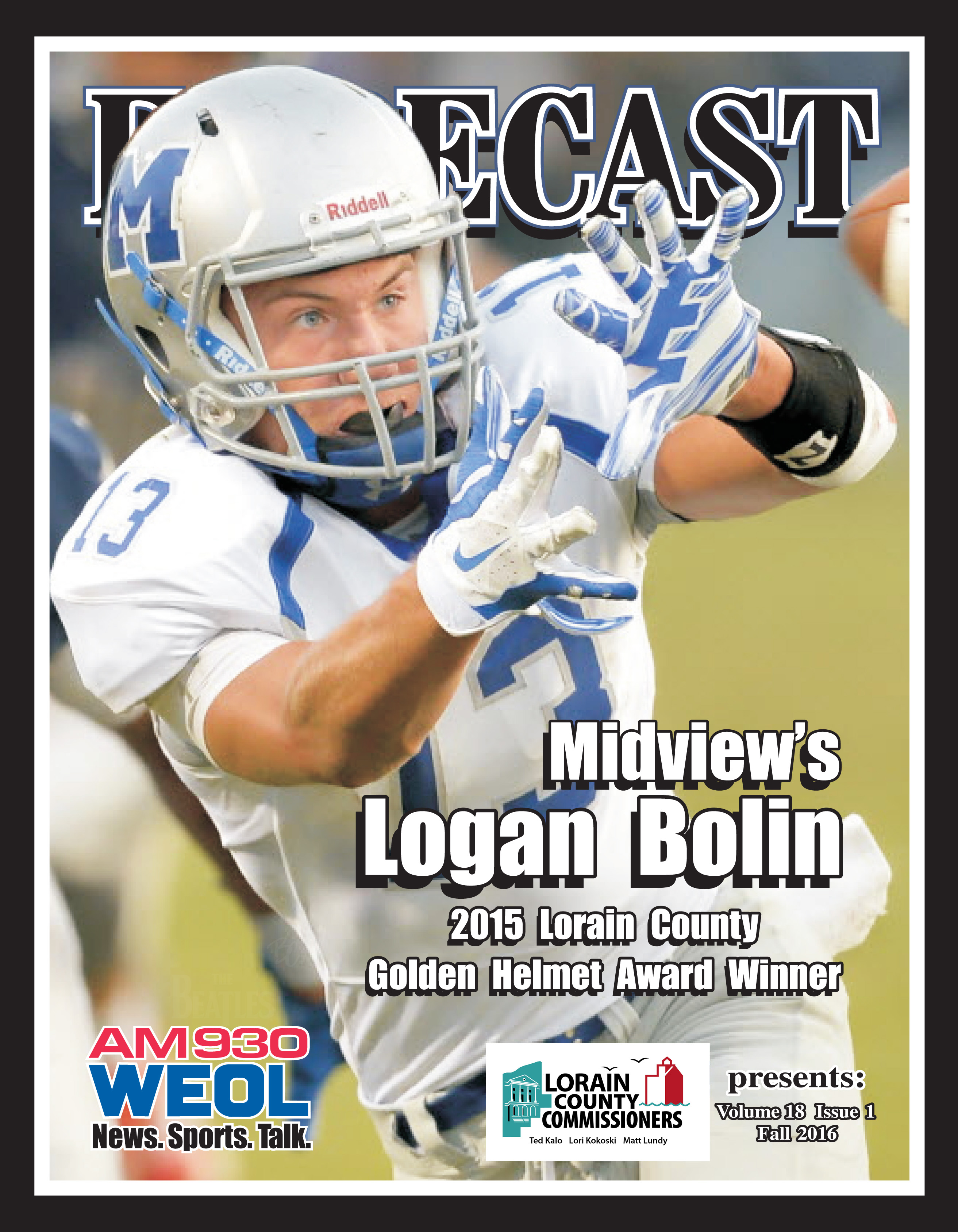 The 2016 Lorain County Fall Forecast features some great football preview articles about the area high school teams, the Ohio State Buckeyes and the Cleveland Browns. Inside you will also find the football schedules of all the Lorain County teams and area colleges. This years magazine also features memories from the Lorain County coaches and the WEOL Broadcast team. Enjoy.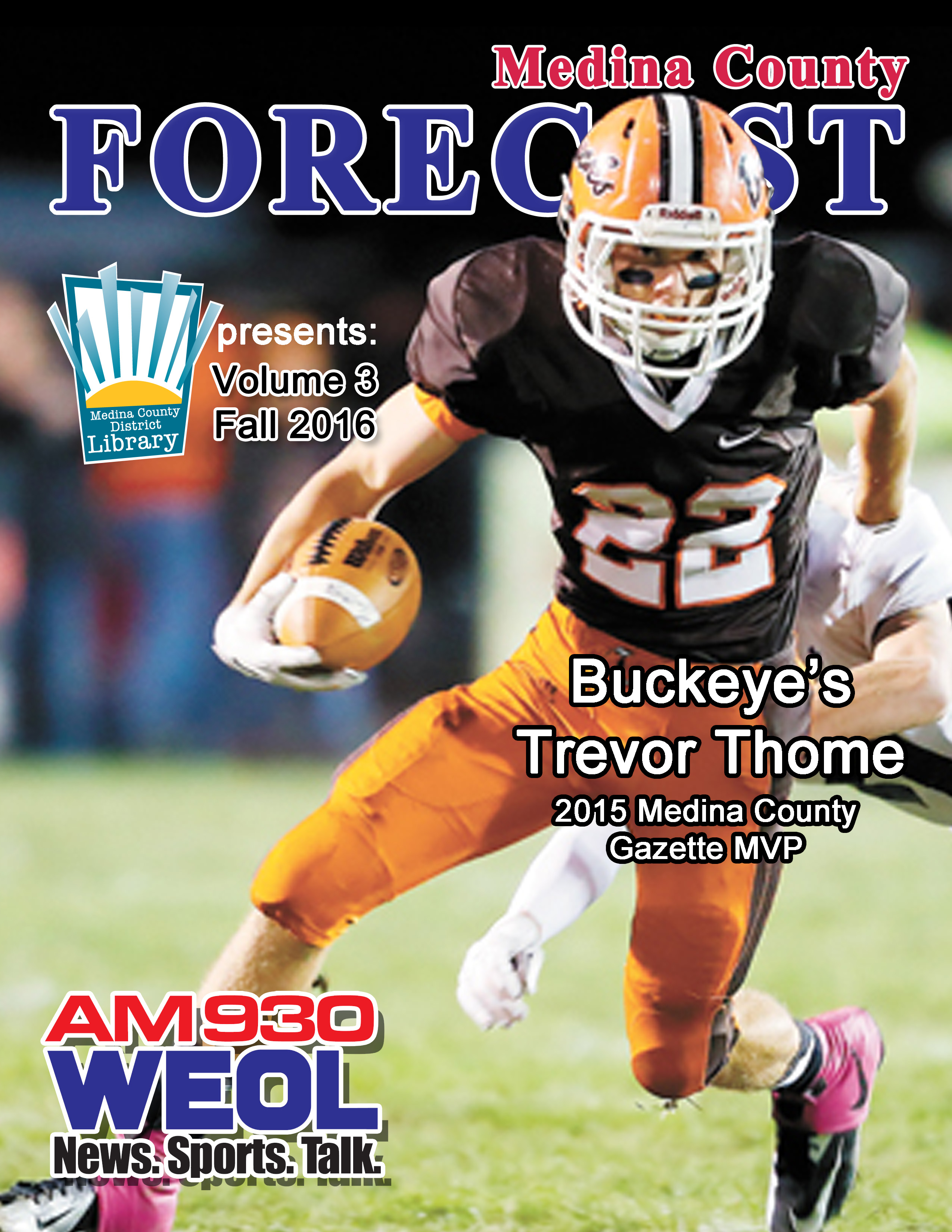 The 2016 Medina County Fall Forecast Magazine takes an in depth look at the upcoming season of Medina County high school football with a preview article written by Brad Bournival. The magazine also features the entire schedule for the upcoming Tri-C Medina County Match-Up which you will be able to hear every Friday night of the football season right here on WEOL.com stream 3.
2015-2016 Magazines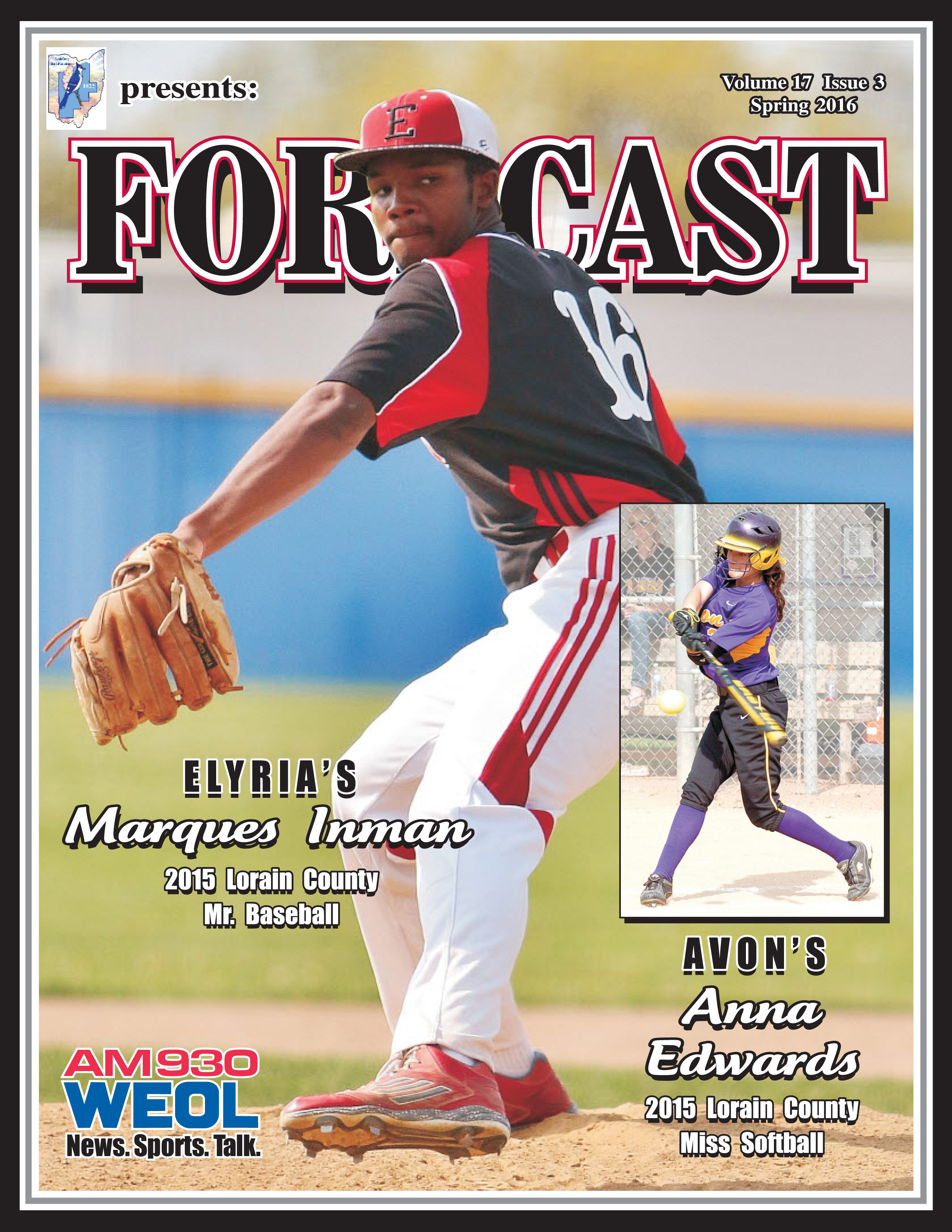 This years Spring Forecast features Elyria's Marques Inman who was named 2015 Lorain County Mr. Baseball and Avon's Anna Edwards who picked up the honor of 2015 Lorain County Ms. Softball. Inside the magazine you will find previews for Lorain County High School Baseball and Softball, a Lake Erie Crushers preview and a Cleveland Indians preview. Season Schedules in this year's magazine include Lake Erie Crushers, Cleveland Indians and the WEOL High School Baseball and Softball broadcast schedule. Click on the cover to the right to see what's inside this years magazine for yourself.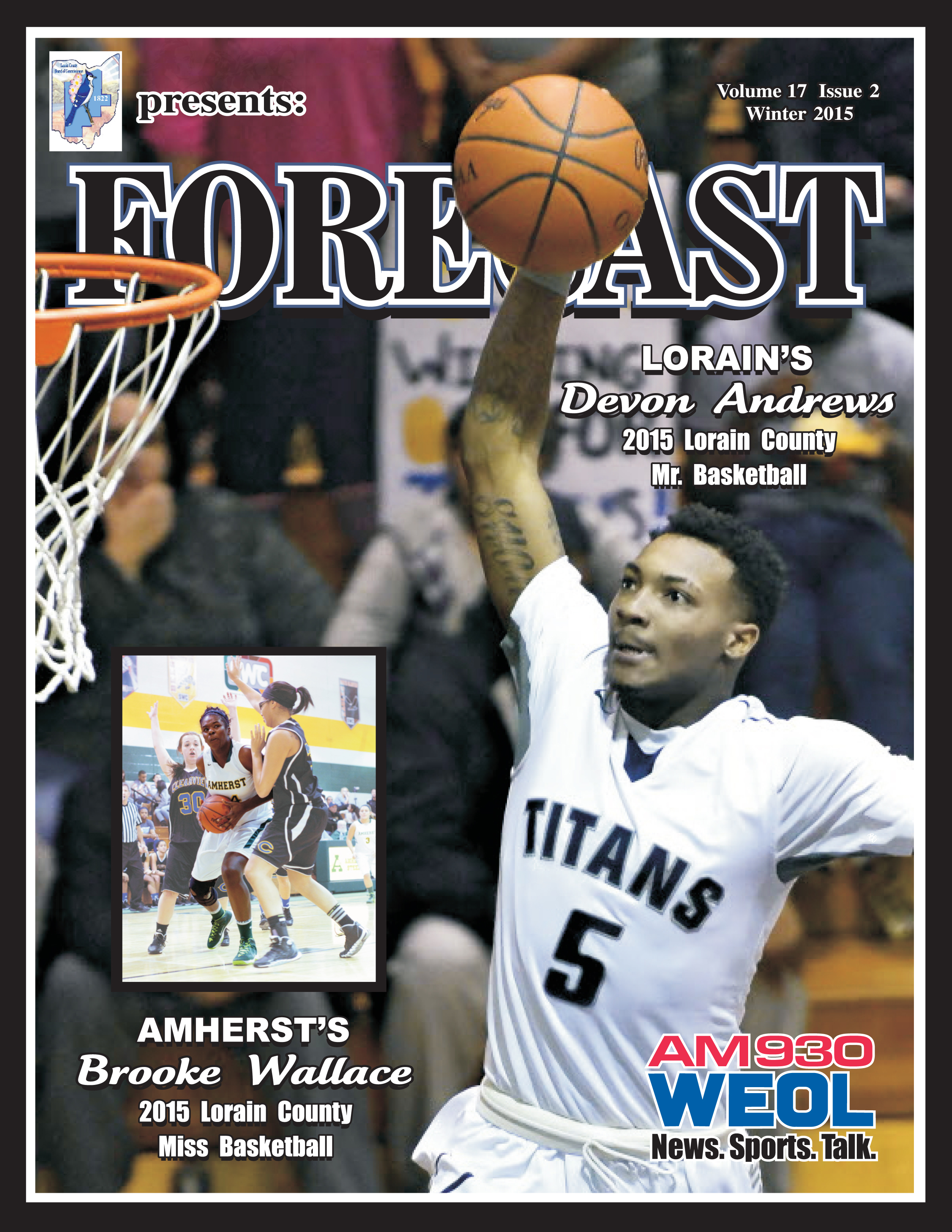 High school winters sports are  here. So check out our Winter Forecast Magazine. Inside you will find articles about High School Boys and Girls Basketball. This year we have also added a wrestling article written by the Chronicle Telegrams Shaun Bennett. Looking for a team schedule? We have you covered. Inside you will find high school basketball and wrestling, Ohio State Men's Basketball and a Cleveland Cavaliers schedules. If you can't get out to pick up the Magazine, don't worry. Just click on this years cover and take a look inside. Enjoy!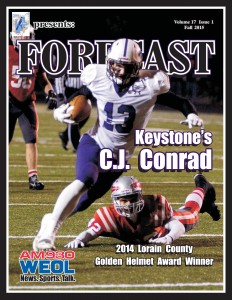 Last years Lorain County Golden Helmet winner C.J. Conrad graces the cover of this years Fall Forecast Magazine. He is just the second Keystone player to receive the Golden Helmet Award.  In Conrad's senior season with Keystone he lead the Wildcats with 55 receptions, 742 yards and 10 touchdowns. The burly tight end helped his team make their first ever Division IV playoff appearance with an 8-2 regular season record. This year Conrad makes his way south to Lexington, Kentucky where he will continue his playing career as a member of the University of Kentucky Wildcats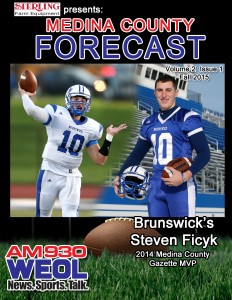 Brunswick's Steven Ficyk takes his place on the cover of our second ever Medina County Forecast Magazine. The Blue Devils field general had a remarkable senior season in 2014 earning the honor of the Medina Gazette MVP.  He led all quarterbacks in the county passing for 2,039 yards, 22 touchdowns, just four interceptions and a NFL passer rating of 106.2. Ficyk led a potent offense that averaged 326 yards and 30.9 points a game. In 2015, Ficyk will continue his football career at NCAA D-II Hillsdale College  in Michigan.